Cafe Cois Trá "opens the door"  to both locals and visitors to connect with how life in Ballinskelligs has been shaped and continues to do so by the Atlantic Ocean. Our location, Where Land meets Sea, shares the stories of our living history among the creative and vibrant community of this south western Gaeltacht.

Cafe Cois Trá is located at Ballinskelligs Beach in the heart of Ballinskelligs on the Skellig Ring, part of the Skellig Coast Region (One of the Top Ten Destinations in the world to visit in 2017 as awarded by Lonely Planet).
We are part of the South West Kerry Gaeltacht (where the Irish Language is spoken) and located at on of the Fáilte Ireland Discovery Points on Ireland's Wild Atlantic Way.
The cafe (open from March to end of October) serves Home Baking – Breakfast, lunch and all day snacks and ice cream with freshly made produce. The cafe is also home to Kerry Images historical collection of black and white photographic prints, cards and maps and more, all available to purchase, a memento from times gone by. Local crafts, knitwear and artisan food products are also available. The cafe also provides Free WiFi for its visitors.
Every Sunday throughout the summer ( and Easter) Cafe Cois Trá is home to our Country market with music and entertainment provided by local artists. Here you can purchase a variety of different items and produce many locally made. Also during the Summer there are many activities taking place these include Tai Chi and Yogafor the children. We offer indooor and outdoor seating in our seaside garden with a childrens play area. Free parking in the now extended car park is available.
Cafe Cois Trá is also delighted to be the local Tourist information point for the area and share our local history of the region with locals and visitors alike.
We are also at the starting point of The Skelligs Monks Trail, where you can tread the paths that the Skelligs Monks did many yaears ago , guided walks are also available where our local guide explains all about the Skellig Monks and their connections with Ballinskelligs before , during and after their time on the Skelligs.
We love to connect people with local knowledge and directions, come and ask us we love to help.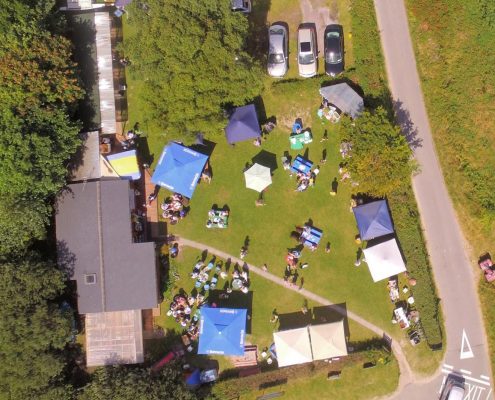 Beach Wheelchair
The specially adapted beach Hippocampe chair is available from Cafe Cois Tra (beachside Cafe)  at Ballinskelligs beach. They glide over the soft sand, unlike regular wheelchairs,  users will require the assistance of an adult to operate them.
The chairs, with specially-designed wheels, are free of charge, available seven days a week and the chairs can be booked in advance for three-hour slots. Users have to present a valid photo ID.
The Hippocampe wheelchairs have a number of features, including balloon wheels to make it easier for beach users with a disability or mobility restrictions to move on the beach.